ADVA -- K3208 solvent printer
Leading the future of the printing. High Speed Monster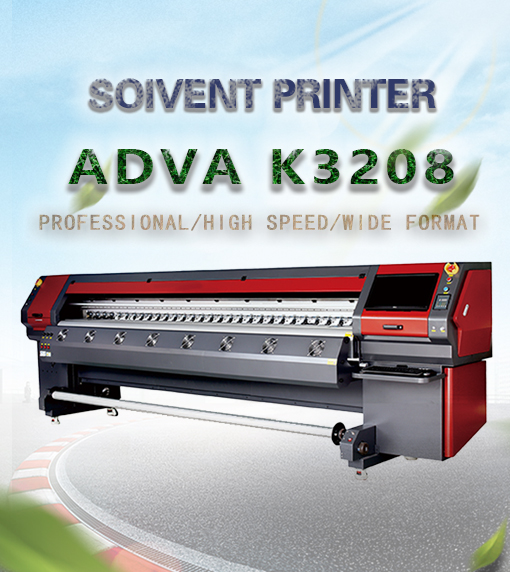 1.Using Konica KM512i/1024i printhead/30pl, faster speed, enrich the saturability, bright color with the picture.
2.Having the particular precision control technolog for the ink smudge, made the image more smoothness.
3.One piece grider, stronger beam for the carriager, improving the printing carriager's stability and precision.
4.Industrial winding and putting system, comfirm the high precision, without crimping, printing with good quality.
5.Using high power Panasonic servo motor and three-level cartridge, made the high-speed printing more stability.
Model

ADVA-- K3208

Printhead

Konica 512i/1024i

Ink droplet

30pl

Printhead quantity

4/8

Color

4

Speed

2pass 8 heads 260-460 sqm/hr

3pass 8 heads 180-300 sqm/hr

2pass 4 heads 130-230 sqm/hr

3pass 4 heads 90-180 sqm/hr

Resolution

720dpi

Adjusttable height

1-10mm

Maximun printhead width

3.2m

Ink type

Solvent ink

Feeding & take-up system

Auto feeding system (Equipped). Auto take-up system (Option)

Material

PVC flex banner, Vehicke Wrap Advertsing, One-way vision and so on.

Photo file format

PSD/DWG/HPG/HGL/PLT/PS/EPS/2PS

Printing process

Maintop direct output

Cleaning system

Automatic cleaning system (Protecting print head during night)

Print interface

USB

Software

Maintop (Equipped), Photoprint (Option)

Machine packing size

4800*1030*1580mm

Gross weight

950kgs